How to Buy Quality Seeds Online in India?
If you are a farmer or you love gardening, you know how important it is to start with good-quality seeds. Seeds are the foundation of any successful crop, whether you want to grow vegetables, fruits, flowers, herbs, or ornamental plants. But where can you find the best seeds for your field or garden? And how can you ensure that they are healthy, organic, and suitable for your climate and soil?
Buying seeds online can be a great option for many farmers in India. You can access a wide range of varieties and types of seeds that may not be available at your local agriculture shop. On the eCommerce marketplace for agriculture in India, you can also compare prices and reviews from different sellers and get your seeds delivered to your doorstep.
However, buying seeds online also comes with some challenges. You need to be careful about the quality and authenticity of the seeds you buy. You also need to consider the shipping costs and delivery time. And you need to follow some best practices to store and germinate your seeds properly.
In this blog post, we will share some tips on how to buy seeds online and make the most of your online shopping experience. But before that, you need to decide upon which seeds you exactly need, and what is the purpose to buy them.
How to choose the right seeds for your crop?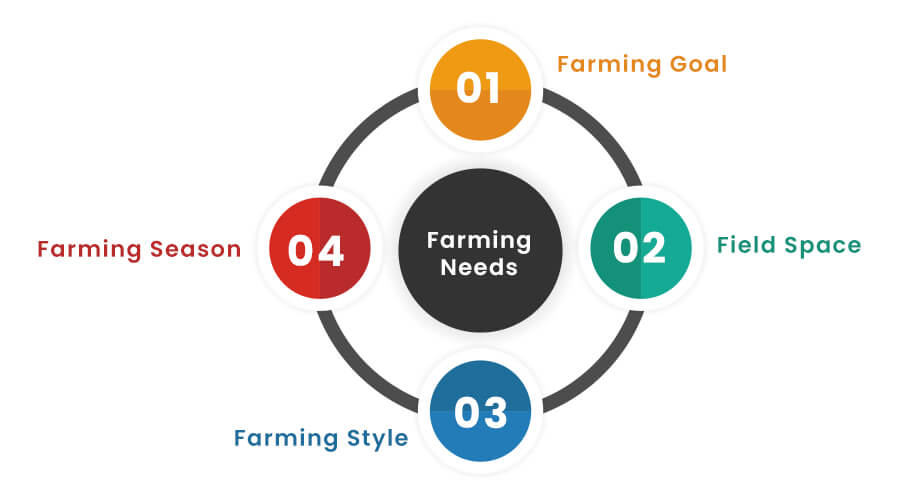 Once you have found a good online seller of agriculture products such as BadiKheti, you need to choose the right seeds. This depends on several factors such as:
Your farming goals: Do you want to grow Vegetables for food? Flowers for beauty? Herbs for medicine? Fruits for snacks? Or ornamental plants for decoration?
Your field space: How much space do you have available? Do you have a large field? A small fertile ground? A terrace garden?
Your farming style: How much time and effort do you want to invest in your field and crops? Do you prefer low-maintenance or high-maintenance plants? Do you like annuals or perennials? Do you like exotic or native plants?
Your farming season: When do you want to start planting your seeds? What is the climate and weather in your area? What are you into? Growing grains? Fruits? Flowers? Vegetables?
How to choose a reputable online agriculture marketplace to buy quality seed?
The first step to buying seeds online is finding a reliable and trustworthy agriculture marketplace. There are many Indian agriculture marketplaces that offer seeds for sale, but not all of them are equally good.
Some may sell low-quality or expired seeds that won't germinate well or produce healthy plants. Some may sell fake or mislabeled seeds that don't match what you ordered. And some may have poor customer service or refund policies.
To avoid these problems, you should do some research before buying seeds online.
Here are some factors to look for:
Check their website for information about their product listing – the wider the range they sell, the better the options you get to buy.
Read their product descriptions carefully and look for any details about the seed origin, variety name, germination rate, harvest time, plant characteristics, growing conditions, etc.
Look for customer reviews and ratings on agriculture seed-selling websites or on third-party platforms like Google Reviews.
Assure the quality of the seeds you buy online. You may ask the online seed-selling portal about their assurance.
Look for guarantees or warranties on their products and services like money-back guarantee, free replacement policy, quality assurance policy, etc.
What seeds are available to buy online?
Based on the factors mentioned above, you can narrow down your choices by browsing through different categories of seeds on any agriculture seeds selling online website:
Vegetable seeds: These include common vegetables like tomatoes, cucumber, carrot, cabbage, etc., as well as exotic vegetables like broccoli, pigeon pea, lettuce, zucchini, chard or Swiss chard, etc.
Field crops: These include popular seeds like mustard, millet, psyllium, cotton, green gram, castor, cumin, etc.
Flower seeds: These include eye-catching flower seeds such as marigolds, bijali, sunflowers, and so on.
Fruit seeds: These include mouthwatering fruits such as watermelon, musk melon, sweet melon, papaya, and many more.
Fodder seeds: This category includes fodder millet, and grass seeds to buy online.
Shop and Order Quality Seeds!
When you know the requirements of your farming or gardening, you may browse the best online seed-selling portal for agriculture and place an order to buy quality seeds. Upon paying the amount, they shall get you the tracking of your parcel with an estimated delivery date and deliver seeds at your desired location.